US Secretary of State Mike Pompeo said Tuesday that President Donald Trump could meet with Iranian President Hassan Rouhani at the upcoming United Nations General Assembly, with "no preconditions."
The comments, made by Pompeo during a press briefing to announce a raft of new sanctions on groups including a unit in Iran's Islamic Revolutionary Guards, came just hours after Trump announced the resignation of national security adviser and Iran hawk John Bolton.
Asked about the possibility of a meeting between Trump and Rouhani later this month, Pompeo, who was speaking alongside Treasury Secretary Steven Mnuchin, said that Trump was "prepared to meet with no preconditions."
Both Trump and Rouhani are scheduled to attend the UN General Assembly in New York late September.
Mnuchin maintained that even with Bolton now out of the picture, the US would continue with its "maximum pressure" campaign against Iran. The policy aims to stop Iran from developing nuclear weapons through economic and military pressure, including sanctions, following Trump's withdrawal from the Iran nuclear deal last year.
Rouhani said last month there would be no meeting until economic sanctions imposed on Tehran are removed.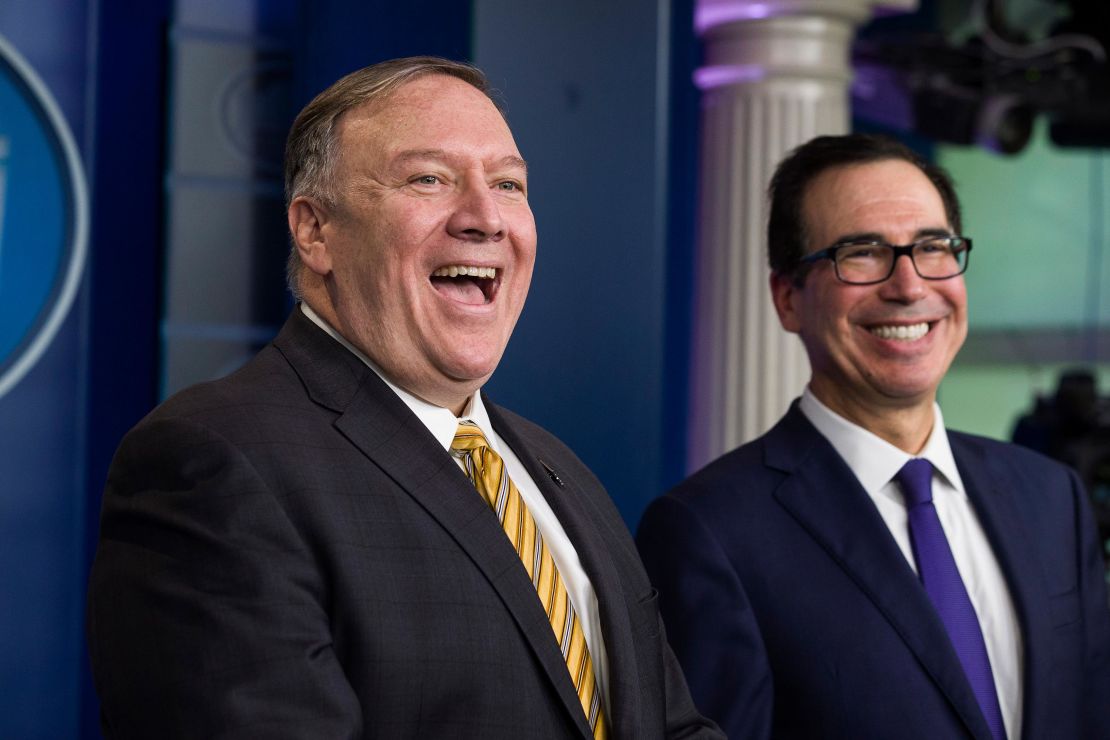 The resignation of Bolton, first announced by Trump on Twitter on Tuesday, was described by a senior adviser to Rouhani as a "clear sign that the US maximum pressure strategy has failed," according to state-run Islamic Republic News Agency (IRNA).
"The fact that John Bolton was sidelined and then eliminated isn't an accident," Hesamuddin Ashena said, and predicted that "Iran's siege will break."
Following Ashena's remarks, Iranian government spokesperson Ali Rabiei said the White House's move to oust Bolton would help the Trump administration better "understand the realities of Iran."
"With the ousting of its biggest proponent of war and economic terrorism, the White House will have fewer obstacles to understanding the realities of Iran," Rabiei wrote on Twitter, according to IRNA. "Months ago John Bolton had promised that Iran would not be there in three months; we are still standing and he is gone."
Bolton was initially brought into the administration last year to replace HR McMaster partly due to his hawkish position on Iran – supporting Trump's exit from the Iran nuclear deal and the maximum pressure strategy – but he soon began to clash with the President's vision for diplomacy in North Korea and most recently on Afghanistan.
Bolton maintains he offered to leave his post voluntarily, tweeting minutes after Trump's announcement, "I offered to resign last night and President Trump said, 'Let's talk about it tomorrow.'"
It's not clear that Bolton's departure was related to Iran policy. In a tweet, Tuesday, Trump said he "strongly disagreed with many" of Bolton's suggestions "as did others in the administration."
White House deputy press secretary Hogan Gidley told reporters there was "no one issue" that led to Bolton's departure, saying his "priorities and policies just don't line up with the President's."
But a senior administration official told CNN that Trump has been getting irritated with Bolton for his statements on Iran, Venezuela and Afghanistan. The two also disagreed over the President's decision to host leaders of the Taliban at Camp David, multiple people familiar with the situation told CNN.
Bolton's resignation comes as tensions with Iran are escalating in the Persian Gulf, North Korea continues to develop its weapons capabilities, arms control experts are warning of a potential nuclear arms race with Russia and trade tensions with China are intensifying, while Trump is discussing a drawdown of forces in Afghanistan.
CNN's Zachary Cohen, Kaitlan Collins, Kevin Liptak and Matt Egan contributed to this report.