The postponed Copa Libertadores final between Boca Juniors and River Plate, two major rival teams in Buenos Aires, Argentina, has been rescheduled for December 9 and will be played at the Real Madrid Stadium in Madrid, according to the South American Football Confederation (CONMEBOLl).
Conmebol also said Thursday they're going to fine River Plate $400,000 for fan violence after the Boca Juniors team bus was attacked last weekend.
The President of Spain, Pedro Sánchez, tweeted that his country is already working "to guarantee the event's security."
The match was initially set to take place on November 24 but was canceled after rioting River Plate fans attacked the Boca Juniors team bus, throwing projectiles, smashing windows and injuring several players – including the Boca Juniors captain Pablo Pérez and midfielder Gonzalo Lamardo.
The teams are competing to be the champions of Copa Libertadores, which is the South American equivalent of the UEFA Champions League.
History of crowd trouble
Boca and River are the biggest clubs in Argentina and have a long and distinguished rivalry. The final marks the first time the two sides are competing against one another in the tournament's nearly 60-year history.
Since the first official match in 1913 – which River won 2-1 – the two clubs have gone on to become the dominant forces in Argentina. Diego Maradona played for Boca in the early 1980s before signing for Spanish club Barcelona.
What started out as a small, local rivalry in the working class La Boca neighborhood of Buenos Aires gradually grew to be the biggest in the country, with River gaining a reputation as the club for the rich and Boca as the working man's team.
And that rivalry has often been accompanied by trouble between fans off the pitch.
In 2015, Boca was booted out of the Copa Libertadores after its fans pepper-sprayed players from River during the round of 16.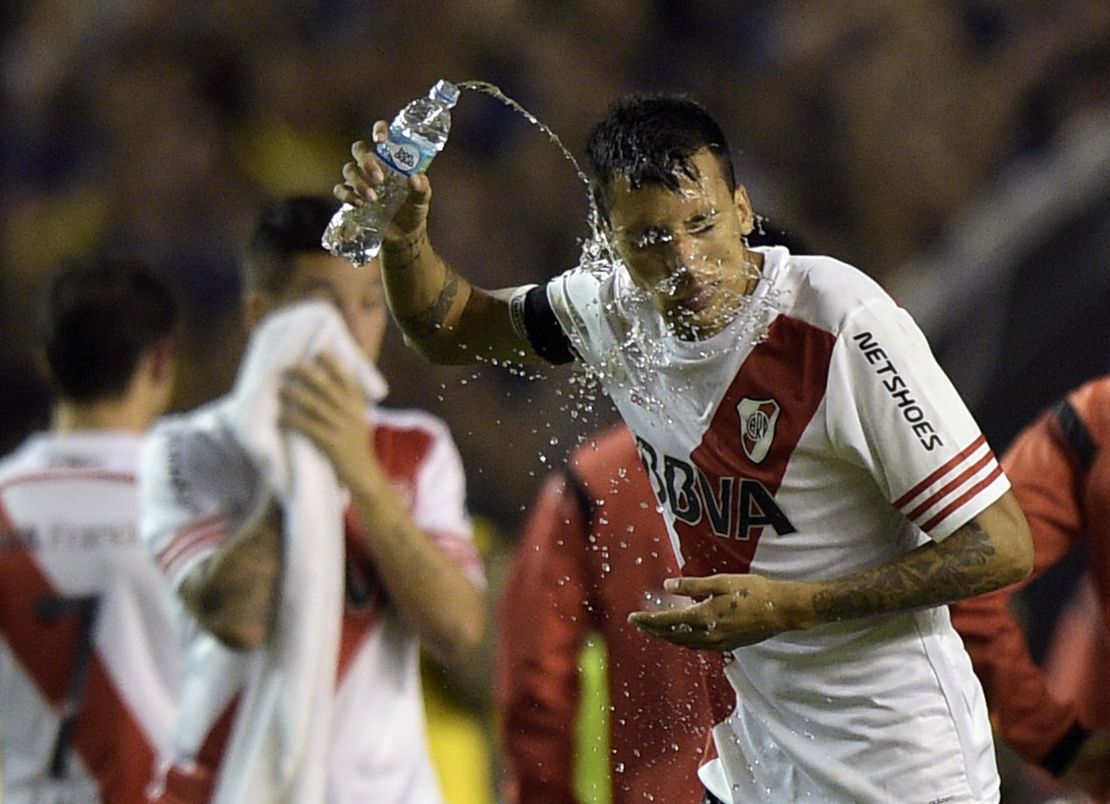 The incident happened at Boca's Bombonera stadium, as players emerged for the second half of a finely balanced two-legged match. The score was tied at 0-0 on the night with River leading 1-0 from the first leg at its crosstown Monumental Stadium a week earlier.
The match was abandoned shortly afterward, and four River players were taken to a hospital for treatment.
Two years earlier, another fixture at La Bombonera was halted for 15 minutes after riot police were brought in to deal with fighting in the stands.
Since 2013, there have been no away fans allowed in stadiums across Argentina, after a Lanus fan was shot and killed by a policemen before a match at Estudiantes.
Copa Libertadores has also had safety issues in the past. In 2013, a Bolivian fan was killed by a flare fired by supporters of Brazilian club Corinthians.