Since April, the Central American nation of Nicaragua has been a country in turmoil.
In just over four months, at least 322 people have been killed, thousands injured and hundreds detained as waves of anti-government protests and ensuing crackdowns have swept Nicaragua, according to the Inter-American Commission on Human Rights (IACHR). Twenty-one of the dead were police officers and 23 were "children or teenagers," the agency said in a recent statement.
Meanwhile, the official government death toll during the same period stands at 198.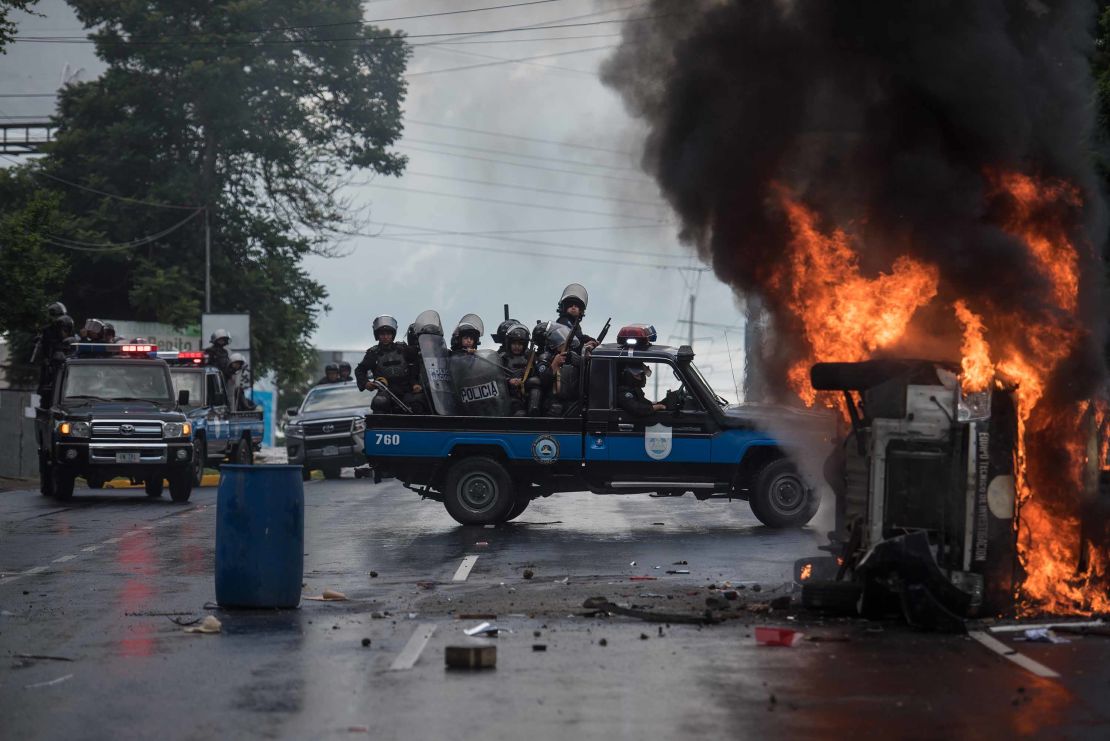 A scathing report by UN human rights experts last week accused the Nicaraguan government of human rights violations in dealing with protestors, saying: "the majority of victims have been young men, under 30 years old, coinciding with the average profile of the protesters, including university students and young professionals."
President Daniel Ortega – a former revolutionary whose Sandinista rebels overthrew Nicaraguan strongman Anastasio Somoza in the 1970s – said the UN report was "nothing more than an instrument of the policy of death, of the policy of terror, of the policy of lying, of the policy of infamy."
The government expelled the UN group.
That was followed by another anti-government demonstration on Sunday. IACHR reported that three people – a doctor and two police officers – were injured in clashes between protesters and pro-government forces.
First lady Rosario Murillo, who is also her husband's vice president, has compared protesters to "vampires," "coup-mongers" and "devils." In a speech on Wednesday, Murillo said protesters were "demons who for three months lashed out at Nicaragua, kidnapping peace, wanting to break the unity, but they could not and will not," adding, "the people are more unified than ever!"
But she also said recently the situation in the country has "normalized." There is no room for hate, Murillo said, according to state-run news agency Digital 19, because the only way Nicaragua will succeed is through "reconciliation."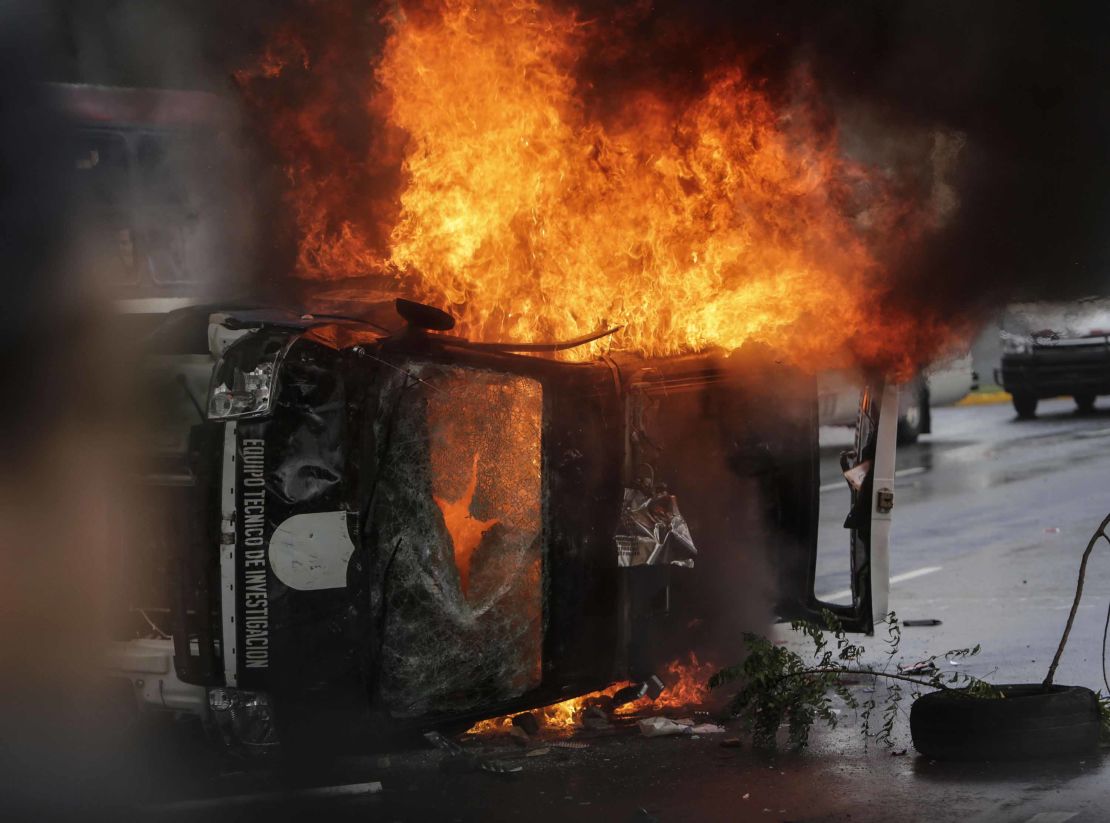 IACHR, which is part of the Organization of American States (OAS), says things are far from normal, as the government is "simultaneously stigmatizing demonstrators, dissidents, social leaders and human rights defenders."
The UN High Commissioner for Human Rights Zeid Ra'ad Al Hussein on Wednesday said that "the past four months have exposed the fragility of the country's institutions and the rule of law, and created a climate of fear and mistrust."
Fear and mistrust
Those are sentiments echoed by several Nicaraguans who spoke with CNN in recent weeks by Skype or by phone.
A 38-year-old father of four and manager of a supermarket told CNN paramilitary troops enter his store a few times a week, hooded and armed. But he stays quiet, he said, afraid to speak or even document the visits.
Worries of losing his job and income linger, as customers now buy the bare minimum and tourism is at zero. "Salaries are low and basic services high," he said, asking not to be identified by name for safety reasons.
Nicaragua's efforts to develop tourism and attract foreigners from countries such as the United States have paid off in jobs and dollars in recent years – according to the World Travel and Tourism Council, 2017 saw 274,000 jobs created in the travel and tourism sector, with an expected rise of 4.1% in 2018.
But Sarah, 34, an American working independently in Nicaragua in the tourism industry for the past 12 years, says the impact of the political upheaval brought her business in western Nicaragua's Tola region to a standstill.
"Since day one of the repression to the protests, our inquiries dropped off completely and cancellations started coming. People got scared," Sarah told CNN, asking her last name be omitted.
Authorities have made it a point not to target or stop tourists, Sarah said, adding she witnessed both police and protesters allowing foreigners to pass checkpoints and roadblocks. While she believes the country's situation is not normal, she reiterates that had she not felt safe, she would have left.
A CNN request for comment to the Nicaraguan Institute of Tourism on what impact the last four months have had on the industry and statistics went unanswered.
Anti-government protests in Nicaragua began this spring with people frustrated over the government's response to a devastating wildfire in an area of protected tropical rain forest. Unrest spread and tensions worsened after a government decision in April to change the country's social security system. The changes increased contributions by workers and employers but reduced pensions for retired workers in the second-poorest country in the Western Hemipshere.
The government subsequently reversed the social security change, but the people continued to march, with authorities moving to stem the protests and violence escalating. At least 10 people were killed in the first few days of unrest.
Demonstrations by citizens, crackdowns by the country's National Police and armed paramilitary groups, and violence have marked the weeks since.
Neighboring Costa Rica has been overwhelmed by the number of Nicaraguans leaving their homeland. An average of 200 Nicaraguans a day are applying for asylum, with "nearly 8,000 asylum claims by Nicaraguan nationals" registered since April, the UN's refugee agency said in a statement at the end of July. Around "15,000 more have been given appointments for later registration as the national processing capacities have been overwhelmed."
Makeshift barricades
On July 13, pro-government forces attacked the National Autonomous University of Nicaragua, where students had been holed up in defiance against the government. The attack lasted several hours, leaving at least two dead and forcing students from the university, including those already injured, to flee.
At least 12 people were killed during attacks that weekend, according to Rupert Colville, spokesman for the UN High Commissioner for Human Rights. "The appalling loss of life must stop – now," Colville said.
As a form of protest and protection against pro-government armed groups, local communities and demonstrators erected makeshift barricades and roadblocks, locally known as tranques.
At the behest of Ortega and his wife, the National Police's "Operation Cleanup" began to remove what they deemed "barricades of death."
National Police General Ramón Avellán, speaking to reporters in July, said they'd remove them, "at whatever cost." Avellán has since been promoted to deputy director of the National Police.
On July 17, pro-government forces stormed Monimbó, a stronghold of the country's anti-government movement in western Nicaragua. The violence, which lasted more than four hours, left at least four dead, and streets littered with shell casings and shattered glass, reporters with CNN said.
Carlos Trujillo, US ambassador to the OAS, condemned the forceful intervention, describing the government's actions as "genocide." The government in turn referred to the incident as the city's "liberation."
The United States and the international community have denounced the Ortega regime's actions in responding to protests, while Cuba and Venezuela remain steadfast allies, condemning the protests as coup attempts meant to destabilize the country.
CNN made multiple requests to the National Police and the Nicaraguan government for comment on the death toll discrepancies, detainments and alleged human rights violations, but the requests remain unanswered.
'You can feel the fear'
Some Nicaraguans interviewed by CNN described nighttime scenes of deserted and silent streets as people are taking to their homes and staying inside, fearful of encountering roaming paramilitary troops or police if they venture out.
A Nicaraguan couple in their 30s told CNN over Skype that they feared simply going outside, "fearing the police, thinking they might kill or detain us."
"It is not normal that protesters are being treated as terrorists and parents are having to send their children across the border," the woman said. Like other Nicaraguans interviewed, the couple asked not to be identified by name.
Max Jerez, a 24-year-old political science major at the Polytechnic University of Nicaragua in Managua, agrees with the couple.
"There are many things that aren't normal," he told CNN. "In the streets you can feel the fear."
Jerez said he has put his education on hold and is calling for students to boycott returning to classes "until the conditions for safety are met, because right now, being a student alone is a crime."