The leaders of North and South Korea will hold a summit in Pyongyang in September, both countries announced Monday.
It will be the third in-person meeting between South Korean President Moon Jae-in and North Korean leader Kim Jong Un. The two first met in April, pledging to forge closer relations and work to formally end the Korean War in an agreement called the Panmunjom Declaration.
They then held an impromptu meeting in May at the demilitarized zone that divides the two Koreas.
Representatives from the two Koreas announced the September meeting after a round of high-level talks between officials from Pyongyang and Seoul at the DMZ Monday.
Ri Son Gwon, North Korea's point man for inter-Korean relations, told reporters that the date has been set, but would not confirm exactly when in September the meeting would be held.
"What's very important is that both governments do all they ought to do regarding progressing all the issues on the agenda," Ri said.
"If the issues that were raised in the inter-Korea talks and individual meetings are not resolved, then unexpected problems could arise and all the items on the agenda could meet obstacles."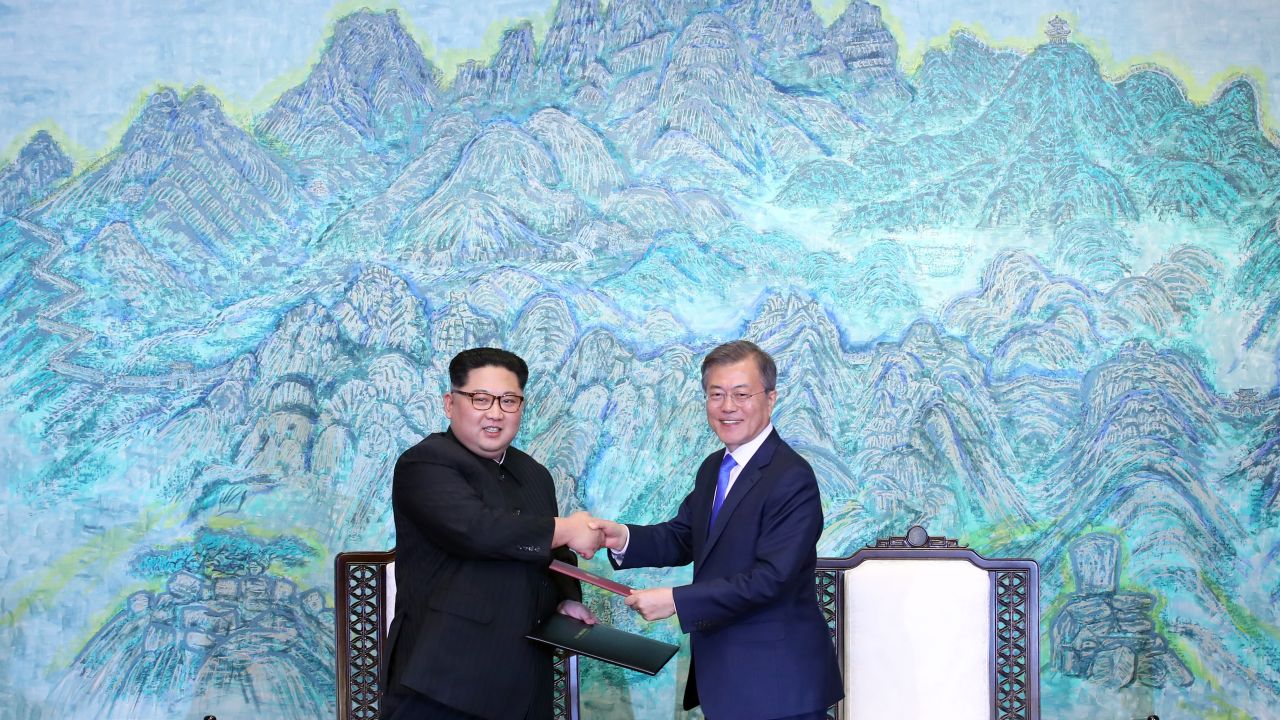 However, Cho Myoung-gyon – Ri's South Korean counterpart – appeared to dispute that both sides have settled on a specific date, telling reporters that "it needs to be discussed further."
Kim Eui-keum, a spokesman for Moon, said that holding the summit before September 10 would be difficult due to logistics.
When he does go, Moon will be the third South Korean president to travel to the North Korean capital, and the first in more than a decade.
South Korean President Kim Dae-jung met Kim Jong Un's father and predecessor, Kim Jong Il, in Pyongyang in 2000 for the first inter-Korean summit. Former South Korean President Roh Moo-hyun also met Kim Jong Il in Pyongyang in 2007.
The Winter Olympics thaw
Moon has long been an advocate for greater engagement with North Korea, dating back to his days as a key presidential aide in the 2000s.
He is credited with using this year's Winter Olympics to help warm relations between Pyongyang and the rest of the world after a tense 2017 marked by North Korea's repeated weapons tests.
The detente paved the way for the April inter-Korean summit and US President Donald Trump's meeting with Kim in Singapore in June – the first ever between sitting leaders of North Korea and the United States.
Kim and Trump both agreed to "build a lasting and stable peace regime on the Korean Peninsula," while the North Korean leader "reaffirmed his firm and unwavering commitment to complete denuclearization of the Korean Peninsula."
Critics of the agreement argued the Trump administration failed to get Kim to agree to specific action.
Trump and US Secretary of State Mike Pompeo have preached patience since then, arguing that complex nuclear negotiations take time. Pompeo has been quick to note North Korea has not tested any weapons since November, when it fired a long-range ballistic missile experts believe could be capable of hitting the United States with a nuclear warhead.
But the two sides appear to have hit an impasse.
Senior diplomatic sources told CNN last week that Pyongyang has continually rejected Washington's proposals on denuclearization, calling them "gangster-like."
Cho, the South Korean reunification minister, said North and South Korea discussed denuclearization in general terms during their talks Monday.
"We explained that we need to help North Korea-US talks progress quickly and that there needs to be an establishment of dynamic where the inter-Korean relationship and the North Korea-US relationship improves in cycles," he said.
CN's Sophie Jeong contributed to this report