Editor's Note: On January 1, China banned all trade in ivory, a move aimed at stopping the killing of elephants by cutting demand for the material in the world's largest market. CNN traveled to Mozambique to find out if the ban is working.
It's no secret where the ivory deals take place in Pemba.
Despite a new blanket ban on the ivory trade in China, the closest major city to Mozambique's largest nature reserve remains a smuggling hotspot for criminal gangs.
In shabby three-star resorts and half-empty Chinese trading offices, illicit deals are discussed freely, especially the illegal trade in ivory.
Posing undercover as ivory middlemen, an investigator is invited into a Chinese investment center near the international airport to talk business. The red-brick, two-story building is like many of its kind, where everything from cheap fashions to toilet seats are on sale.
They meet in an internet café inside the building and within minutes a conversation with a Chinese trader has turned to ivory.
"I have two tusks," our man tells the trader, flipping through photos of ivory on his smart phone, and promises to have a steady supply ready to export.
"How many meters do you have?" the potential Chinese buyer asked in broken Portuguese, "can you get ten meters?"
Haggling ensues.
The trader questions whether he can get the ivory into China.
"That's a crime," he says.
It's either a negotiating tactic to lower the price or a sign that new laws in China are having an impact.
But will those laws stop the slaughter?
Years of catastrophic illegal poaching have pushed African elephants closer and closer to extinction.
More than 30,000 have been killed annually since at least 2010, according to a study known as Great Elephant Census.
But 2018 was supposed to be a banner year for elephant conservation.
"The year of the elephant!" one headline gushed. In January, the Chinese government banned all ivory trade.
By criminalizing the purchase of ivory, the ban is meant to stop people from selling and buying ornaments and trinkets made from ivory.
Conservationists heralded the move as the best chance yet to stop the slaughter across Africa and squash demand in the world's largest market.
Now, six months after the measure took effect, a CNN investigation has found that smugglers are still working with near impunity, and in some cases Chinese investment in Africa is facilitating the trade.
The Niassa Reserve in northern Mozambique, one of the last great wildernesses of southern Africa, is becoming both a test case and emblem of the ban's failures.
With more than 16,000 square miles of protected reserve bordering Tanzania, it's about twice the size of South Africa's famous Kruger National Park. It's become the epicenter of poaching on the continent.
So far, there has been no statistically significant drop in the levels of poaching since the Chinese ban was implemented, says Richard Thomas of Traffic, a wildlife monitoring group.
"The China ban was widely hailed as a potential game changer," said Thomas.
"But, there is no evidence that this has been realized at this stage."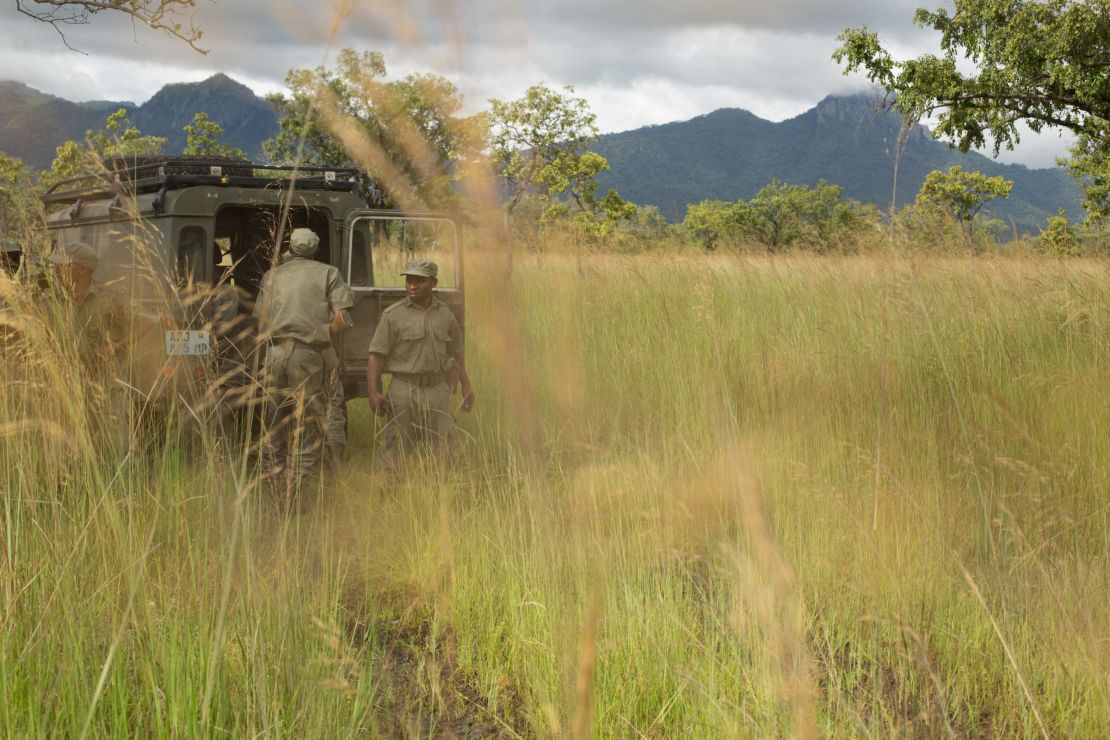 China's role
Demand for ivory is largely driven by China, where intricately carved ornaments have long been considered a sign of wealth and ivory products believed to hold medicinal value.
But an investigator who is tracking the Chinese nationals suspected of running ivory smuggling networks out of Pemba, Mozambique, says the ban has done little to halt ivory transactions in Africa.
The investigator can't be named for his own safety; tracking syndicates can be a dangerous business. He's worked all across Africa, but he has never seen it this bad.
"This is the worst. This is the worst. This one, is the worst place," he said, shaking his head slowly.
He gathers actionable intelligence from a group of informers inside the very networks he is trying to bust.
Some traders are doing so well that they are buying up tracts of beachfront property along the azure coastline, he said.
There is some indication the ivory they're selling doesn't just go to mainland China, but to other places in Southeast Asia to be sold to Chinese nationals, tourists and others trying to evade the Chinese ban, says Thomas.
In mid-April, authorities confiscated 867 pieces of ivory in a container in the capital of Maputo, piled up with recycling and bound for Cambodia.
Fernando Tinga of the Mozambican tax authority estimates 433 elephants were killed to make up the haul that weighed more than three tons.
"It was a Chinese trading company, but the suspects were not arrested. They escaped once they heard about the seizure," says Tinga.
CNN's repeated attempts to get hold of the company were unsuccessful.
Peter Trevor, an operations manager for the Wildlife Conservation Society says there's a direct link between Chinese expansion in Mozambique and the smuggling of ivory out of the country.
Chinese companies have built roads and railways, cities and schools all over the continent. In 2017 alone, China pledged $60 billion of investment in Africa – just the latest commitment in a long-running trade bonanza.
And while China's scramble for African resources and tenders is hotly debated, the assessment by conservationists is uniform – it's a major push factor of wildlife crime.
The connections are obvious, Trevor says, slapping his hand on a map of the region. "Gold mining, gold mining, gold mining, timber. To slip a tusk or two into a truck full of timber is easy," he says.
Armando John Wilson, the prosecutor for Cabo Delgado province where Pemba is located, says he believes that Chinese are involved in poaching and ivory trafficking although no Chinese traders have been arrested.
He also blames corruption despite the country introducing in 2014 harsher sentences for wildlife crime.
"We have no doubt about it. Corruption is the source of the poaching," he says.
Wilson says measures have been put in place to punish corrupt officials and they have set up dedicated teams to just deal with wildlife crime.
"There is a commitment by the state to prevent this kind of thing," he says.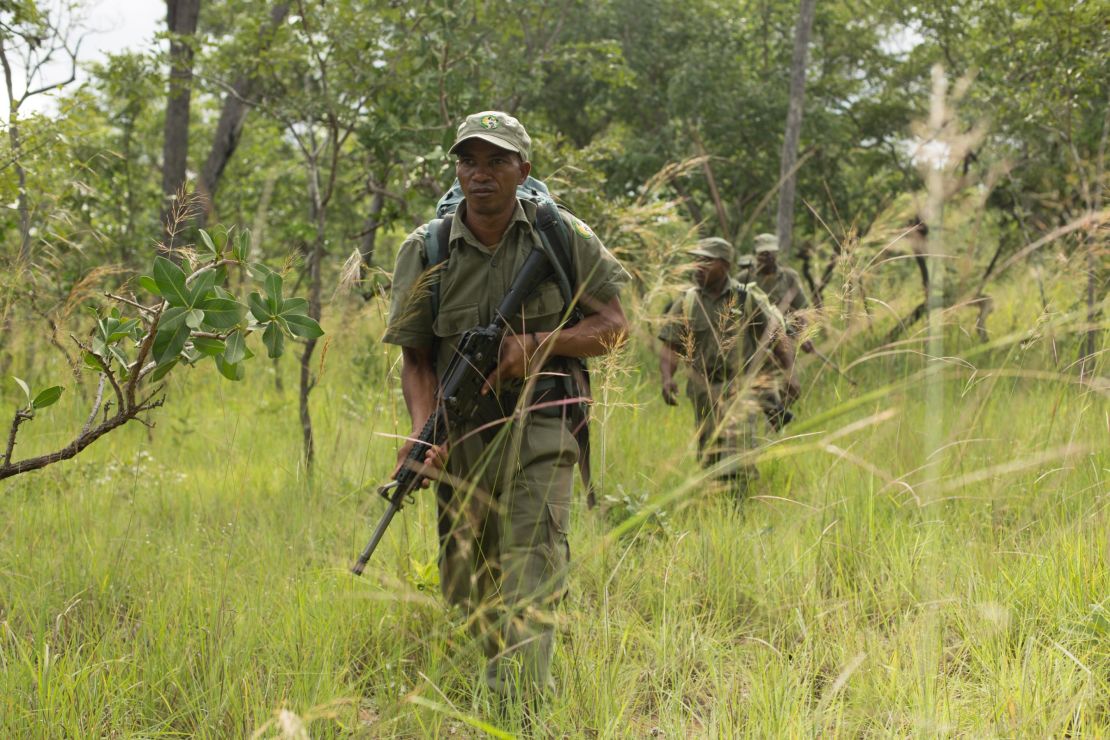 The investigator who is tracking the syndicates says that corruption is perhaps his biggest enemy.
The lack of prosecutions and money flowing through the system is hampering their ability to stop the poaching.
"That one, is now the biggest problem. I think they are buying their way out," he says.
Ground zero for the gruesome work of poaching is in Niassa Reserve – 13 numbing hours of dirt roads and overflowing streams away from Pemba.
The huge reserve should hold tens of thousands of elephants. But there could be fewer than 2,000 left, according to Philip McLellan, a conservation pilot brought in by the Wildlife Conservation Society.
The organization has had some modest successes combating poaching in the reserve. During the height of the killing season, they brought in a chopper to mount surprise attacks on groups of poachers. They've also developed systematic scouting patrols driven by intelligence.
But, for now, it's just McLellan and his Cessna 206 patrolling in the air to track the elephant population and scare off teams of poachers. Heavily dependent on grants, they can't afford to pay for much more
After days of sustained rain in the reserve, McLellan is skirting past the imposing granite inselbergs that thrust majestically out of the forest floor. He peers down at his iPad in one hand, his other hand on the controls of his plane.
He's tracking elephants, which are tagged with GPS tracking collars. After several wide arcs of the plane, there is no sign of the matriarch. "We are approaching her last known tracks," he says. But all the way to the horizon it's just verdant bush.
The flight over Niassa to find the elephants isn't yielding results, the GPS icons of the animals checked off one by one.
Tracking to the left, McLellan points out the enormous granite of Mecula mountain.
"Herds often spend their time on there," he says hopefully.
The mountain slopes down into the Lugenda river. It is an ideal spot for an animal that drinks 50 gallons (227 liters) of water a day.
But lately, they have been only coming to drink in the middle of the night, wary of the poachers that come into their habitat by boat.
"That is the tragedy of Niassa Reserve. The pristine wilderness has been raped. The many elephants that used to roam this area are now down to the bare minimum numbers," says McClellan.
Poachers
Of course, prospective buyers and ivory kingpins don't actually go into the bush in Niassa to shoot the elephants – much like a drug lord wouldn't harvest his own cocaine.
When scouts catch those that actually kill elephants in Niassa, they are often brought to Montepuez, a hub half way between Niassa and the Pemba at the coast.
Some locals call this trading town El Dorado because of the precious stones and goods that pass through its markets. Mozambican, Somali and Chinese vendors sell stereos, mattresses, clothes and rubies in the bustling market streets. And, of course, ivory.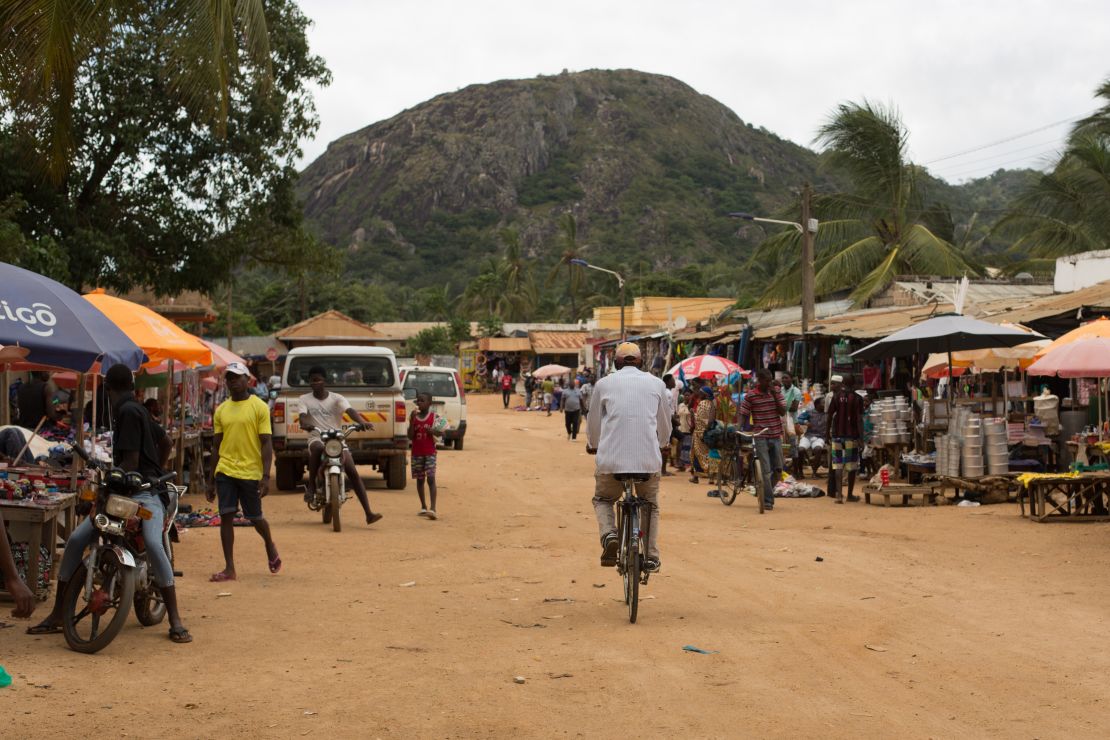 Its prison is surrounded by a rickety reed fence and doesn't look much like a prison at all. The cell block is a stained cream tin-roofed single-story building. The iron grate is wide open.
In the under resourced, overcrowded prison, guards lead out a suspected poacher with his hands behind his back. like he is wearing cuffs. But he has none.
"We were in the bush when we found a group of elephants. I shot the first one, then I shot the second one," says the poacher, who goes by the nickname Tunda Tunda, gesturing his arms like a rifle.
Like other poachers, he is remarkably disconnected from the killing that leads to the trade.
A Tanzanian middleman hired him but he says he didn't know where the ivory would go or who the end buyer was.
Tunda Tunda says he already spent a year in jail for a separate poaching incident. But his choices are limited. He would do anything to help his family escape grinding poverty.
"I went poaching because I was suffering, I had nothing to survive and I am desperate," he says.
The poachers who kill the elephants are usually poor and just looking for a way to feed themselves or their families. Often, they don't have alternatives to wildlife crime.
"Poverty is causing poaching in Mozambique. Even if the Chinese ban is put in place at the end market, it is different for poachers on the ground. They hardly read the papers, they don't have TV sets. They will continue doing this to build up stock for buyers," says the intelligence agent.
The harsh truth is that even if Chinese government bans the trade effectively in the long run, it may not be enough to stop those who turn to poaching from a life of poverty.
And the investigator knows that he is running out of time. The criminal networks' ability to operate with near impunity makes him pessimistic. Sitting on his porch in the gloom he shakes his head slowly, deliberately, as he speaks:
"We will be losing all the elephants in the near five years if it continues like that. In Niassa, there will be nothing left," he said.
Edited by Joshua Berlinger and Katie Hunt