There were 762 murders in Chicago in 2016. It was the deadliest year in nearly two decades.
Here's how we got to this point, what it means for the city and those whose lives have been changed forever.
In modern history, few things have caused such a sharp spike in US deaths as drug overdoses.
WHAT 762 MEANS
The number alone doesn't tell the entire story of Chicago's bloodshed. There's another statistic that points to a disturbing trend the city is facing: a surge.
There was more than a 50% increase in murders in just one year. Chicago hit 500 homicides before the end of the summer in 2016. In 2015, the city had less than 500 homicides total.
Five police districts on the south and west sides of the city accounted for nearly two-thirds of the increase in murders, according to Chicago police.
The day-to-day breakdown of those figures is alarming. For example, there were 12 murders on Father's Day weekend alone. The youngest victim was just 16.
And crime didn't subside over the holidays. On Christmas weekend, 12 people were killed, and police investigated 27 shootings.
CHICAGO VS. OTHER CITIES
When you compare Chicago's murder rate to that of other big cities in the country – New York and Los Angeles, for example – it tops the list.
But Chicago isn't necessarily the murder capital of the United States.
New Orleans, St. Louis, Detroit, Baltimore and Newark all have higher figures when you drill down to a per-capita rate.
THE PEOPLE
We often point to Chicago's alarming homicide numbers, but the real tragedy in this city are the victims and the families left behind.
One child age 16 or younger is murdered in the city every week on average. This has been happening for more than a quarter century, police records show.
On December 31, 2016, many Chicagoans came together to mourn what they lost over a year: their loved ones, their sense of safety – and, in many ways, the city they love.
HIS SON WAS THE FIRST HOMICIDE OF 2016
"I see kids now … and they remind me of my son when I see them. And I just want to tell them: be careful," Canady said.
SHE LOST HER GRANDSON
"We as a people left in Chicago have a lot of work to do," she said. "They fear going outside. They fear playing."
SHE LOST HER SON
Fierro said she feels empty without her son. "To bring someone into this world, and then to take them, like nothing."
SHE LOST HER FATHER
Born and raised in Chicago, Porter has three children and fears for their safety daily.
"It wasn't a sudden change in the last year. Violence has been in Chicago for the last few years," she said.
HE LOST HIS BROTHER
"I don't even think I'm proud to say I'm from Chicago anymore," Torres said.
THEIR CHILDHOODS HAVE BEEN STOLEN
Earlier in 2016, we met some of the youngest victims of Chicago's violence. Several children learn how to hit the floor at the sound of gunfire – and it's a lesson they're taught before they're old enough to set foot in a classroom.
Disappearing porches: Devin's story
Disappearing porches: Etyra's Story
THE GUN PROBLEM
A lot of the homicides in Chicago are gun-related. In 2016, there were 3,550 shooting incidents and 4,331 shooting victims, according to the Chicago Police Department.
Chicago has strict gun laws, which is why many gun rights advocates point to it as evidence that tighter regulation doesn't equal less crime.
GUNS IN CHICAGO: 2016 BY THE NUMBERS
3,550 shooting incidents
4,331 shooting victims
8,300 guns recovered – a 20% increase from 2015
10% more gun arrests in 2016
Source: Chicago Police Department
But Chicago's gun violence problem is more complicated. Sixty percent of the guns used in shootings were purchased out of state.
"We border Indiana and Wisconsin, which have really lax gun laws," Chicago Police Superintendent Eddie Johnson said.
"We know that people from Chicago go across the border, fill up gym bags with illegal weapons from gun shows and things of that nature and they come back here and sell them to the gangs."
Illinois Gov. Bruce Rauner recently signed a new gun control law that imposes harsher penalties on those who bring in guns from out of state to sell and do not have gun-owner ID cards.
WHO'S TO BLAME?
The street crime in Chicago has led to the killing of innocent bystanders and kept residents shut inside their homes out of fear.
Police said the majority of the violence wasn't random. More than 80% of fatal and nonfatal shooting victims in 2016 were previously identified by CPD as being likely to be involved in an act of gun violence either as a victim or an offender.
"The violence in 2016 was driven by emboldened offenders who acted without a fear of penalty from the criminal justice system," Superintendent Johnson said.
Neither homes nor streets are safe: Those are the first and second most likely places to get murdered in Chicago.
Englewood resident Stephanie Armas, 43, said she taught her kids from a very young age what to do when they hear gunshots.
"If you live in a society where (your children) have to learn to duck and dodge bullets, you have to teach them how to duck and dodge bullets," Armas said on September 1. "That's all you can do."
Porter, who grew up on the South Side, she said she thinks poverty and lack of education are a big part of Chicago's problem.
She also touched on how the city is still so segregated. Lack of resources for some of the neighborhoods, she said, is a major issue.
Many Chicagoans partly blame the violence on economic struggles and lack of jobs. However, Chicago's unemployment rate fell from 6.1% in 2015 to 5.5% in 2016.
THE POLICE AND THE COMMUNITY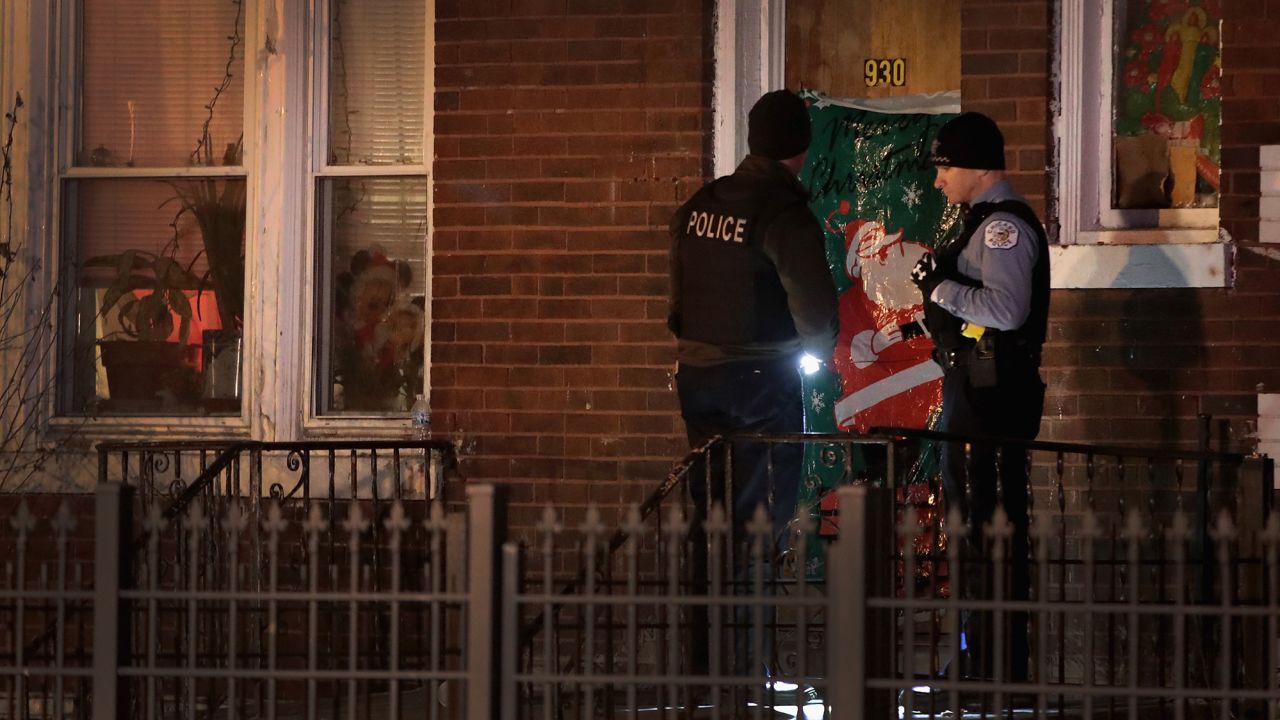 For many residents in Chicago, there's also a deeply rooted distrust of the police force.
The city's police department was under review for months in the wake of high-profile officer-involved shootings, including that of Laquan McDonald.
Video shows cop shoot teen
An independent task force accused the police department of institutional racism, saying officers "have no regard for the sanctity of life when it comes to people of color."
However, officer-involved shootings are only a tiny portion of Chicago's homicide rate.
From January 1 to September 8, there were six deaths tied to officer-involved shootings, according to the Independent Police Review Authority.
Attacks on officers, according to the Chicago Police Department, nearly doubled in 2016.
How will this all change in 2017? Some people are moving. Others are refusing to go outside. This man traded a gun for a yoga mat. One woman patrols her street herself.
But most of the people we've talked to in Chicago are united on a single desire: to make their city safe. They just don't know how.
The police department said it has its priorities: expanding the department, new leadership and "partnering with residents" are among them.
"The challenge we face as a city is serious, and like other cities it is significant," Superintendent Johnson said. "If we come together and work together I know we can turn the tide in 2017."
Additional reporting by CNN's Rosa Flores and Mallory Simon.